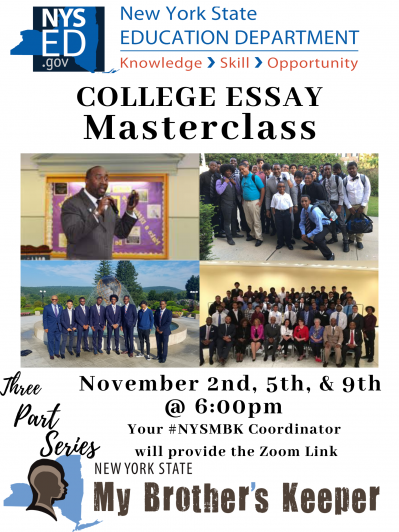 NYS MBK Fellows Masterclass Series: College Essay Writing
The 2020 MBK Fellows continued their leadership and personal development training with a College Essay Writing workshop.
The three-part series, held earlier this month, focused on the insights and steps that some pay hundreds of dollars for.
Details are posted on the MBK website.
YONKERS CENSUS 2020
Please go to my2020census.gov and fill out your census right away – it takes about 10 to 15 minutes. If you don't have a secure connection, or you'd prefer to answer by mail, you should be receiving paper questionnaires later this month that you can mail back. Or you can respond via phone by calling 1-844-330-2020. All census response data is safeguarded by Title 13, which prevents the Census Bureau from sharing it with other parts of the government – including the courts and law enforcement agencies. Whatever you do, please make sure that Yonkers Counts. Please enjoy the following video made by the City of Yonkers.
---
YCAP is committed to making our community count in Census 2020!
Visit Links to Learn More: https://communityactionpartnership.com/census-2020
Employment Opportunities for Upcoming Census:
https://www.census.gov/about/regions/new-york/jobs/new-york
---
In November 2018, the Yonkers Police Department in collaboration with Yonkers Coalition for Youth conducted 15 compliance checks. Yonkers Police Department found all 15 establishments to be 100% in compliance:
Homefield Deli, 970 Saw Mill River Road
Tara's Corner Deli, 62 Woodlawn Avenue
Veronica's Deli, 970 McLean Avenue
Stationary and Convenient Store, 998 McLean Avenue
Big E Wines and Liquors, 690 McLean Avenue
Super Delicatessen, 617 McLean Avenue
Kay's Wines & Liquor, 851 Bronx River Road
Deli & Grocery, 827 Midland Avenue
Wines & Liquor, 459 McLean Avenue
R & V, 466 Riverdale Avenue
Good Food Deli & Grocery, 411 South Broadway
Bus Stop Deli, 273 South Broadway
Corner Deli Grocery, 273 South Broadway
Waterfront on the Go Deli, 37 Main Street
Warburton Deli, 150 Warburton Avenue
Thank you and Congratulations for helping to stop underage drinking!!